And finally, a fuckyeah blog for the world's most misunderstood monarch hast arisen! We all know Henry Tudor the Eight of England as the grotesque, red-headed and bearded womanizer that he became in the last 18 months of his life but my goal will be to bring the truth to all who chose to visit this blog and to prove that while he was a monarch, he was a man also with his own share of insecurities and a jaded childhood that influenced his reign perhaps more then it should have.

Large Visitor Map
Ask me anything
Submit
March

24

2012
In the Lords' year of of 1603, her majesty the Queen of England Elizabeth I, died.
January

16

2012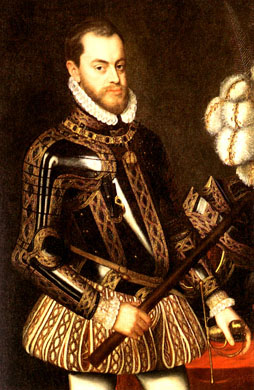 January 16th in the Lords' year of 1556, Philip II of Spain had his coronation. Philip was the son of Charles V, Holy Roman Emperor and King of Spain and Isabella of Portugal. His paternal bloodline was impressive to say the least, his great-grandparents were Ferdinand of Aragon and Isabella of Castile, his grandparents Juana the Mad and Philip the Handsome making Katherine of Aragon his great-aunt. Phillip would go onto be King of Spain, Portugal, Naples, Sicily and become Lord of the Seventeen Provinces after his father's abdication of the throne. He would also briefly see the throne of England and Ireland during his second marriage to his second cousin, Mary I of England.
Upon Philip's succession, Spain reached it's peak of power and religious fanaticism. Philip felt it was his destiny and calling to wipe out the heretic Protestants, proven by the height of the Spanish inquisition that took place during his reign or Philip's attempt to make war with England claim the throne that he felt was rightfully his through his marriage with Mary. Ultimately, Philip's attempt to control Protestanism through his inquisition, armada and even controlling the Dutch Revolt failed and he left behind a mixed legacy.
It is easy for us to say that Philip was a bloodthirsty Catholic, power hungry and greedy. This he may have been depending on which part of the world you may hail. For Anglo-saxon nations or those nations of Anglo-saxon decent, Philip is often polarized after a result of many Anti-Spanish propaganda schemes. Who knows what is truth and what is false but I would like to ask my followers or those reading what you think. What is your personal opinion on Philip II? Were his actions admirable or just greedy? Please, remember to not judge these historical characters by today's standards and float over towards the submission box!
January

15

2012
January 15th in the Lords' year of 1559, Elizabeth I, daughter of Henry VIII and Anne Boleyn, had her coronation. After a strategically long wait since Mary's death and burial on the 14th of December, 1558, Elizabeth's celebrated accession began on the 14th of January. In a series of pageants, Elizabeth boasted about her strictly English genealogy (as opposed to Mary who was half Spanish through her mother) along with several other demonstrative pageant meant to display Elizabeth's current and future greatness. Her actual coronation took place the next day and was a clever combination of Old Catholic Rituals and New Protestant Regulations to accommodate both Elizabeth's personal beliefs and England's Catholic population. 
7

PM
England and Spain didn't start hating each other until the famous queen Elizabeth I, daughter of Henry VIII, took the throne while the Reformation was going on. Mary Queen of Scots was trying to assassinate her (failing many, many times) so that she could become Queen of England herself, and…
Actually, the feud goes back even further to Elizabeth's father and even grandfather! It started during the reign of Henry VII who arranged for his eldest son, Prince Arthur to be married to the daughter of Ferdinand of Aragon and Isabella of Castile, both unified monarchs of Spain. It was a rough wooing to say the least since the two were betrothed at 2 but went through a series of falling outs due to his issues about the dowry and when the couple would be married. When Katharine did finally get there and Arthur died, she was in near poverty and off of court expenses. Thus she had to support her own household and spend much of the plate she had been sent with. During this time, plate and silverware were worth much money so she was sent with this instead of actual gold or silver for her dowry. The Spanish people abhorred how their Infanta was being treated but the hold up was ultimately the fact that Ferdinand had not paid Katharine's dowry in whole. This was a huge deal for Henry VII who was known for his frugality and expecting his payment in whole though Ferdinand argued that the plate was her dowry and kept extending payments.
Though the final straw was when Henry VIII succeeded his throne and was Ferdinand betrayed Henry by signing a treaty with France. Early in his reign, Henry VIII was so in love and infatuated with his Spanish bride that she trusted her above his councilors. A high position for a woman of that time. Ferdinand also made Katharine ambassador to England and with her in Henry's ear, she convinced the power-hungry King to go to war with France, Spain's ancient allies. Thus they went to war in the first French Campaign in 1511 alongside Maxmillion, the Holy Roman Emperor but in 1513, Spain and the Holy Roman Empire signed a secret treaty behind England's back. Henry never trusted Katharine again and had sour sentiments towards Spain since, especially when Katharine's nephew, Charles V, broke betrothal with Princess Mary Tudor and married a French Princess.
(Source: redelsud)